Tiktok star Addison Rae (20) regularly sleeps in the same room as Kourtney Kardashian (41), but has no sexual relationship with the reality star 20 years older. That's what the dancer, who has nearly 80 million followers, said when Kourtney's sisters questioned her about the controversial friendship between the two.
Their friendship has been widely reported in international showbiz media since its inception in 2020, especially after Kourtney posed in bikini with Addison for a series of poolside snaps. Some of her 115 million Instagram followers found it a bit awkward.
"She's 41 and hangs out with 19-year-olds in swimming pools," someone wrote at the time. Kourtney didn't like that. "Do you have any suggestions for better places?" she sneered. "I'm still looking for ideas."

The friendship, which was seeded when Kourtney's 11-year-old son Mason danced with Addison on TikTok, also raised questions among her well-known family. The new season of 'Keeping up with the Kardashians' shows how Kim asked Mason where Addison actually sleeps when she comes to stay. In Mommy's room, was his answer.
Kim, her sisters and their mother wanted to know more about it and took Rae to lunch without Kourtney. "What the hell are you doing with Kourtney to make her so happy?" Khloé asked during a real fire of questions that also dealt with Addison's roots.
Kim continued, "To be honest, at first we thought, wait, are they having sex?" Addison laughed at the idea and denied it. "It's okay if it is, no one is judging," Scott Disick, Kourtney's ex and Mason's father, tried to elicit further details. "No, we don't," Addison concluded. "It is strange that that was your impression."

Read on under the picture.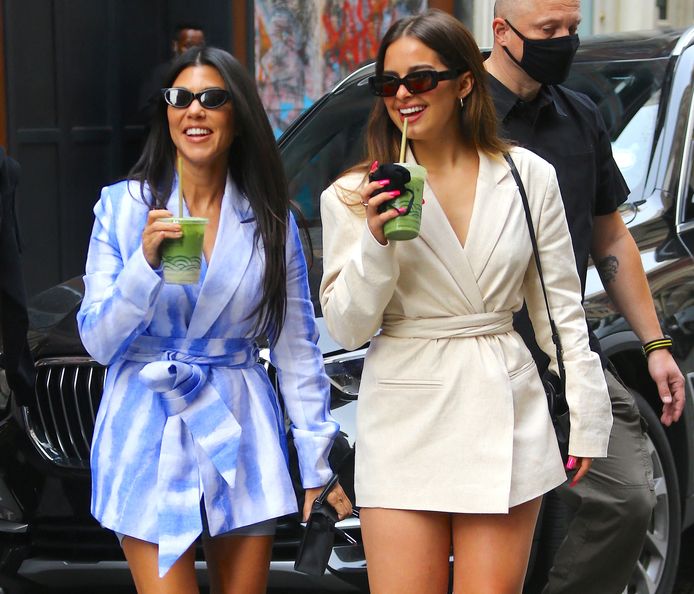 Nice energy
Addison thinks her friendship with Kourtney is the most normal thing in the world. "I think you can have friendships with people of any age and that everyone can click with other people in different ways," she said earlier.
"Kourtney and I just happen to have a great friendship and that's great fun. She is a nice person to have in my life. She said that I have a pleasant energy that she likes to surround herself with. I think she has that too and she has so much experience in her life that I can look at and learn from. "