It certainly does not always have to be that way, but sometimes it cannot be avoided. Then women's football is like men's football. Because football is football and you play it in your head. Remember when the guys in the Jupiler Pro League start their final round soon. The rules are the same, the pants are short and the ball is just as round and yet it is all experienced differently. There are two suitable words for that: typical play-offs.
That is why the first match of the final round is not good but exciting from the start. Many opportunities, many misses, many cards, but not that one red one. In the scrimmage after the Liège equalizer, goalkeeper Evrard Schoenmaker gives a firm push. Actually always red. After that she gets quite a lot of work to do, nothing difficult and she takes them all.
Ella Van Kerkhoven is on the bench for almost the entire match. He will go to camp with the Flames on Monday to mainly work hard physically. If she then scores another five times or five, she is probably not to be kept for Ghent.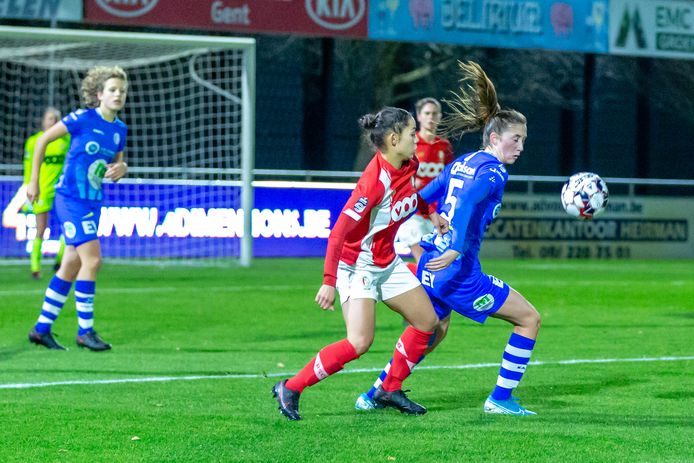 Balls are flying against the posts on the left and right. Standard is mainly physically more resistant than last week. They picked that up well. There is more balance in midfield. Janssens against Délacauw is the duel with the six lungs in that zone. Jaques disappears into the dressing room with, probably, a broken wrist. It is a competition with a painful side. The dents and bruises are almost impossible to count.
Sylke Vanwynsberghe heads one in. Not hard but precise.
On the other side she capsized in a duel with Schoenmakers and did not get the ball to Evrard.
Doctor-soldier Sanne Schoenmakers makes her 12th of the season. 1-1.
Jolet Lommen is faster than almost any opponent. Nelissen knocks her to the ground. Lobke Loonen makes 2-1 from the spot. With a few minutes to go, Lindsey Van Belle gets yellow-red.
Three points for Ghent. Standard still has a tip on surplus. At Ghent and Leuven because OHL wins 0-1 in Bruges. Anderlecht did not play yet.
The position after the halving of the points:
1. Anderlecht * 26
2. Standard 21
3. Ghent 20
4. OH Leuven 20
YLA Club 13
* played one game less