Certainly a starting ticket in play-off 1 with another game on surplus. A month and a half ago that seemed a utopia for KRC Genk, now it is reality. Racing Genk scored thirteen goals in the last five games. Four from Onuachu, three from Ito, three from Thorstvedt, two from Bongonda and a big shot from Captain Bryan Heynen. Fresh, fruity, playful, colorful, the best football is once again served in Limburg and the coupe of tuttifrutti tastes delicious.
Lightning rod Thorstvedt and 'Lange Polle'
The main ingredient? Thorstvedt in ten. Daring, but successful. Since John van den Brom posted the Norwegian in ten against Charleroi, Racing Genk has played football with a different attitude. Thorstvedt is technically not the most flashy ten, but it is a character. He plays football with an over-my-head mentality that Genk previously lacked a little too often.
"There is a real block now," he said recently. "And we are creating a lot more opportunities." He is often involved in this himself. Thorstvedt knows how to choose an excellent position for goal. An extra man to keep an eye on for the defense and, in addition to being a finisher and declarant, also the ideal lightning rod for Paul Onuachu. 27 goals in 32 league games meanwhile for the Golden Bull of Genk. Would you like to take a walk along the European top marksmen list? Robert Lewandowski is number 1 with 35 goals in 25 games, Onuachu is second with his strong figures, Cristiano Ronaldo is third with 25 goals in 27 games, Lionel Messi is fourth: 23 goals in 28 games. Haaland, Mbappé and Lukaku are also in the top ten. Clean company for 'Lange Polle'.ADVERTISING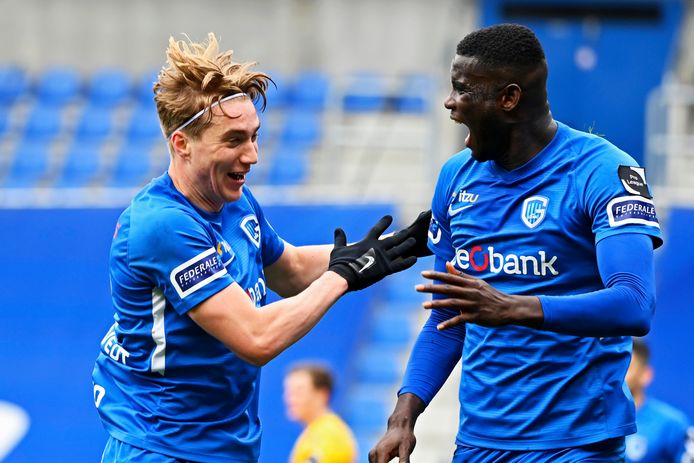 Offensive wealth, defensive stability
But as said, the danger does not only come from the ashes, the flanks also fly as usual. Junya Ito – the Japanese's groin injury must be clarified today – and Théo Bongonda returned to their best form just in time and thus provided the whipped cream. "I think we can do even better," says Théo. "We have already shown for a whole season that there are many qualities in this group and they come out at the right time."
The offensive wealth is reinforced by the defensive stability. There was Vandevoordt's minor flaw at OHL, but apart from that, they give very little away at Genk. Gone are the cold winter months and there are the warm-blooded South Americans. And Racing Genk seems to be reaping the benefits just in time. With that one side note that Genk took all his victories against teams from the right column. Will it also continue to feast against Antwerp this weekend?